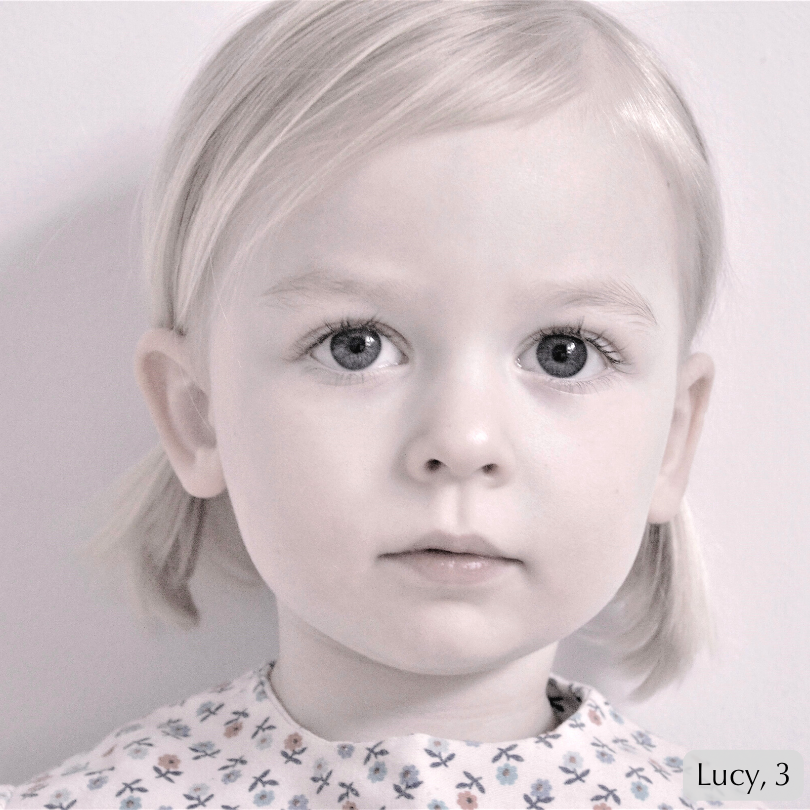 Letter from the founder
Dear Lucy was created as a love letter to my daughters, Chloe and Lucy - to show them we can achieve meaningful change through our own actions. I love luxury skincare, but I'm often left wanting more from the brands on the market. More transparency, greater sustainability efforts, better clinical results. And as the mother of daughters, I'm also left wanting less: less misinformation, less fear mongering, and less judgement.
Inspired by this, Dear Lucy was born. A brand so confident in our quality and efficacy that we have no need to exaggerate claims. A brand committed to making the best decisions for your skin and for the environment, now and for generations to come. A brand my girls will be proud of.

x Caity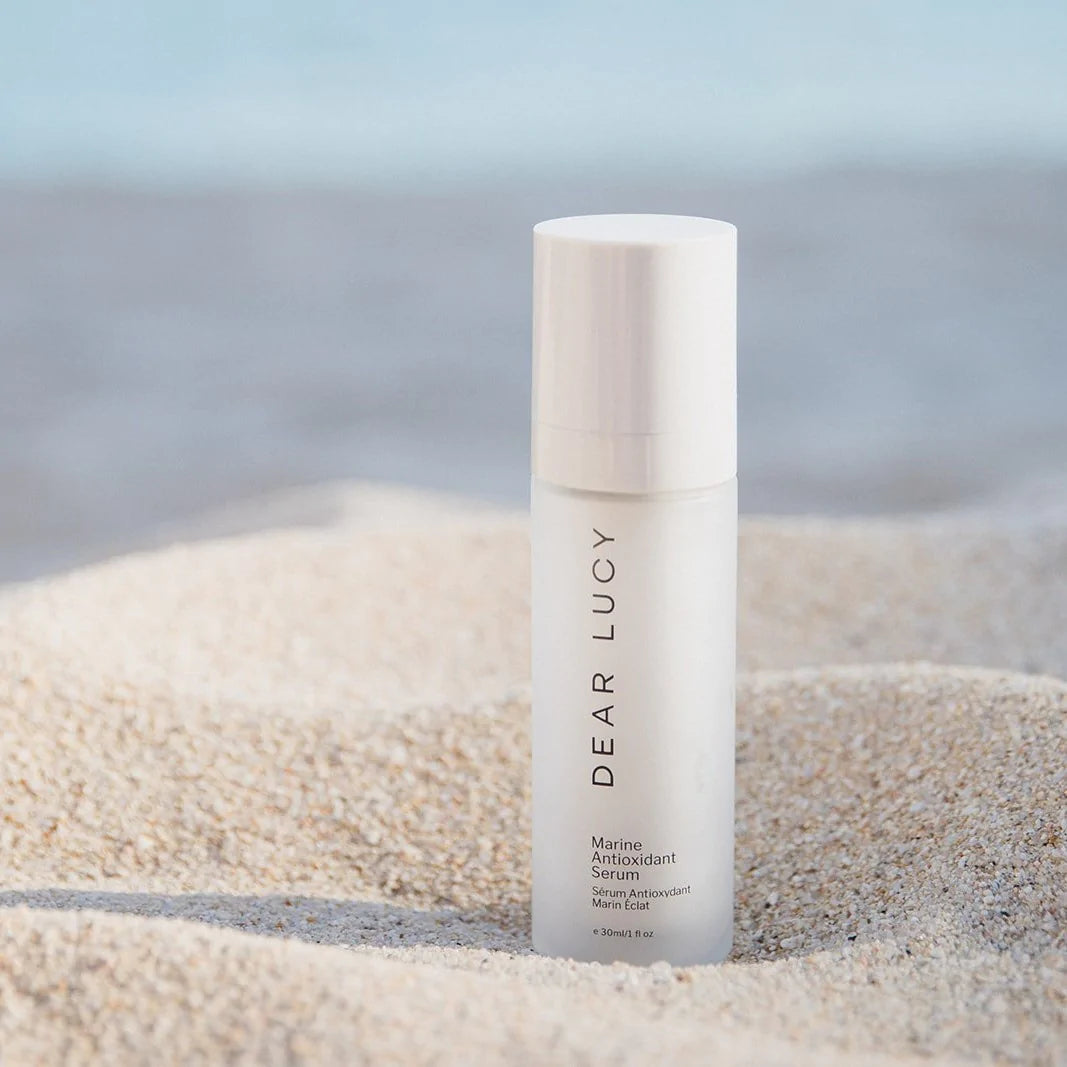 Performance & Safety
Rigorously tested, our product development included:
9 formula iterations
independent preservative challenge, packaging compatibility and stability testing
12-week subjective trial with 20 subjects*
independent Human Repeat Insult Patch Testing (allergy patch testing) with 50 subjects*
8-week independent clinical trial with 30 subjects* 
independent toxicological screen and safety assessment  for UK/EU compliance
*all subjects were consenting adult humans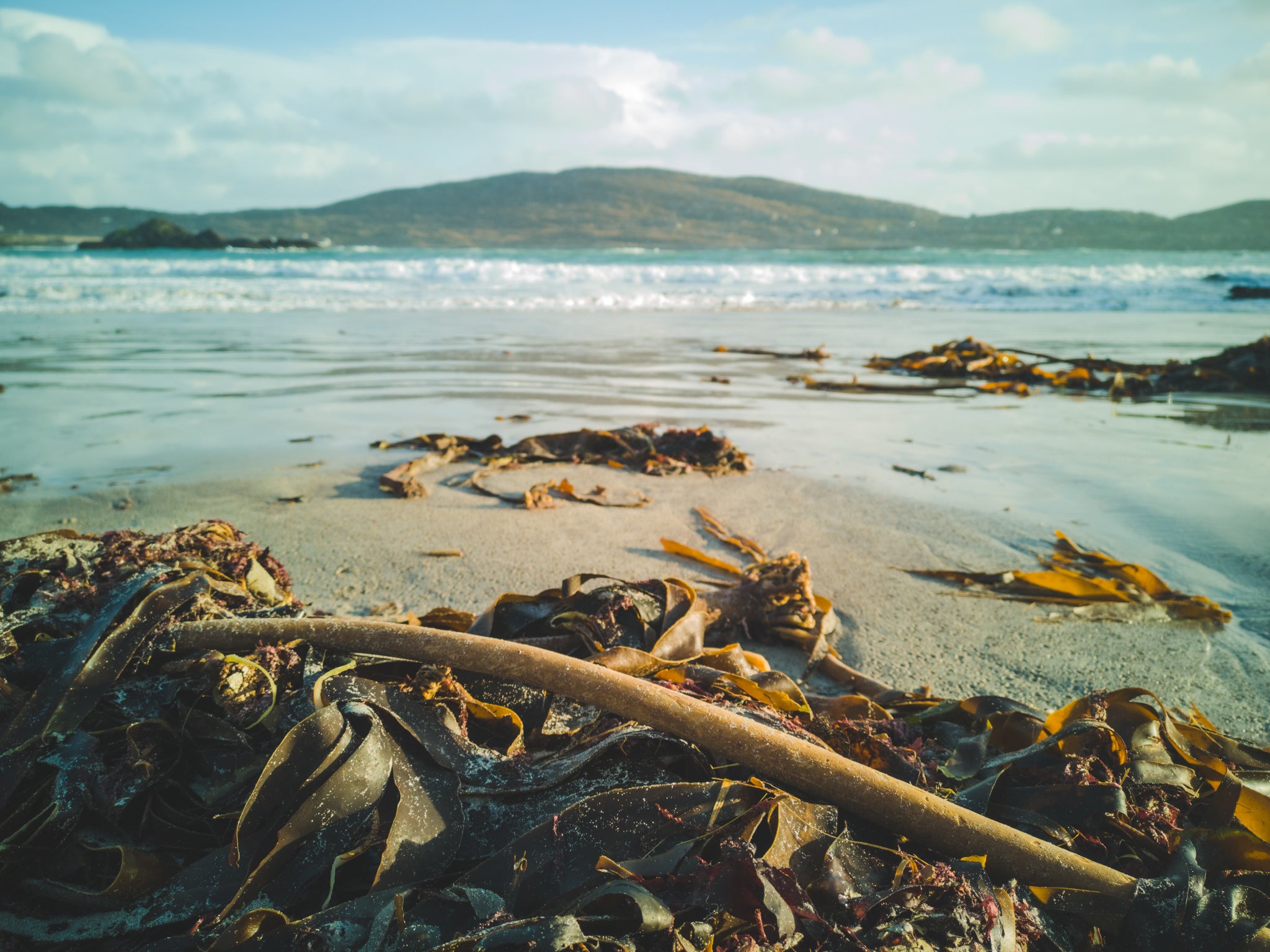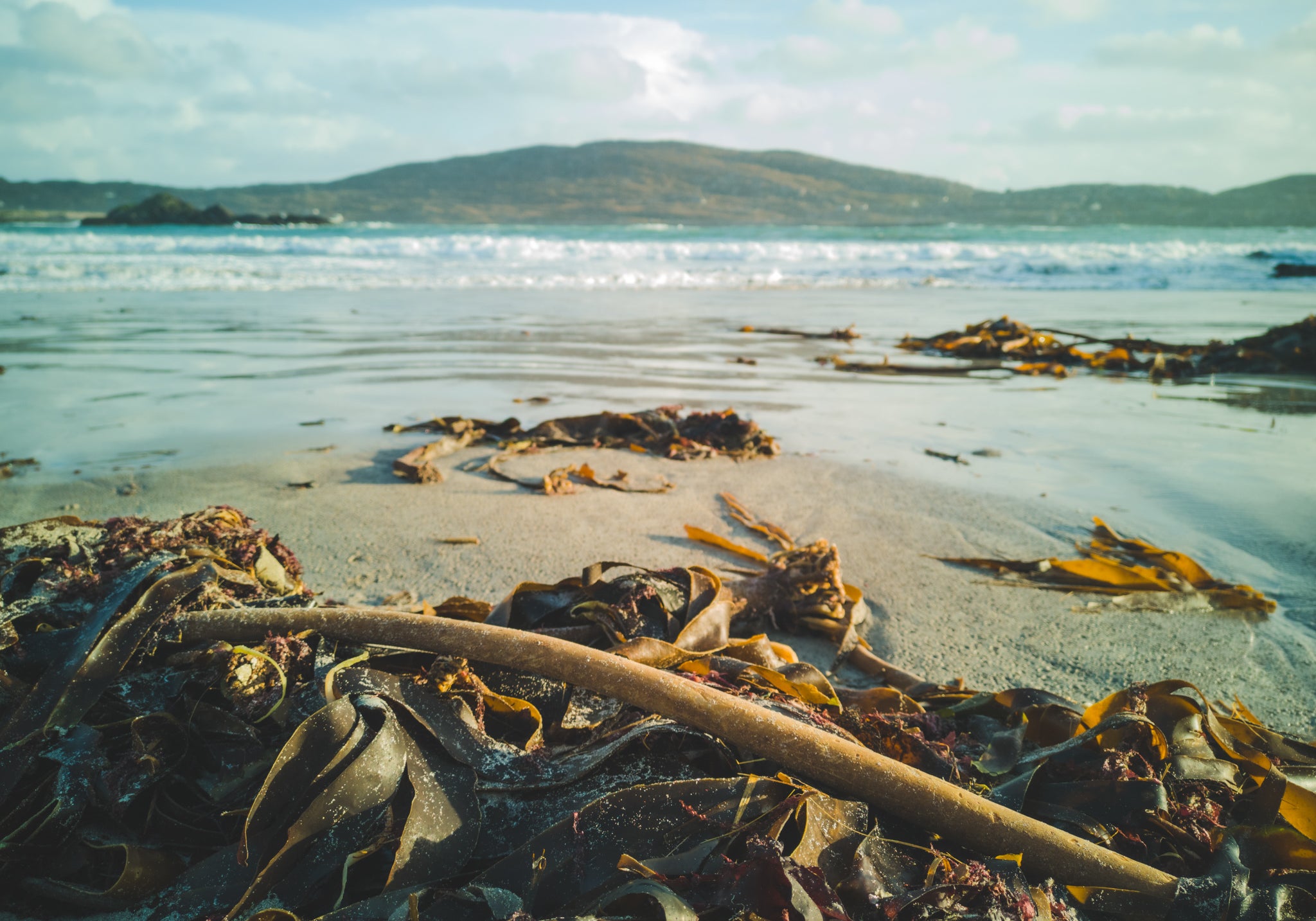 Sustainability
Sustainability is the goal, but it's hard to imagine that a truly sustainable consumer packaged goods product exists. So, we like to think of ourselves as more sustainable. We've focused our efforts where we can have the most meaningful impact, and every decision in our product development and production supported our goal to make the most sustainable luxury skincare product possible.

From local production to selecting innovative biotech ingredients, we value sustainability above cost savings. Take Butylene Glycol, for example: rather than the traditionally sourced petroleum by-product, ours is a unique biotech alternative created through the fermentation of plant sugars and its production emits less than 50% of the CO2 than that of traditional butylene glycol.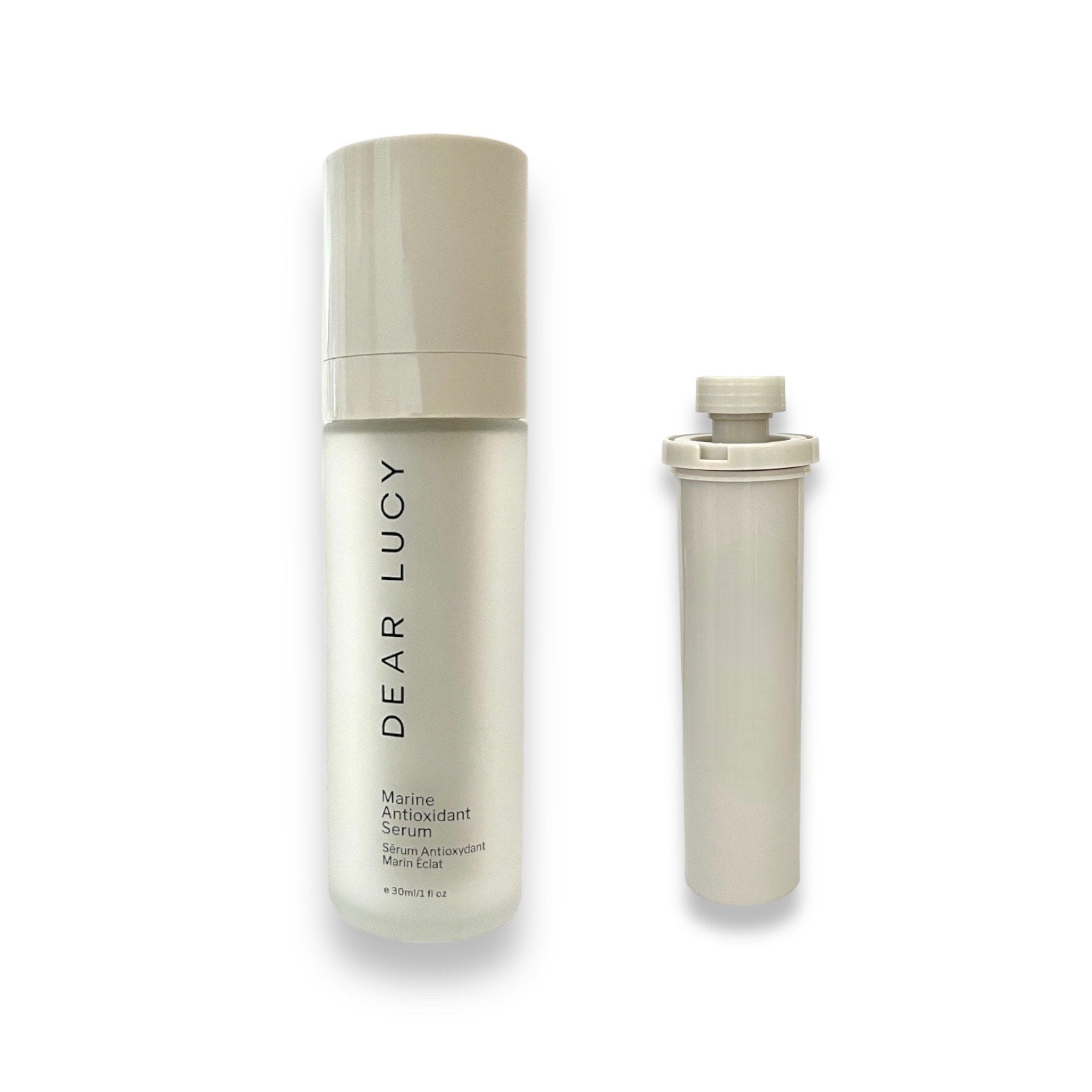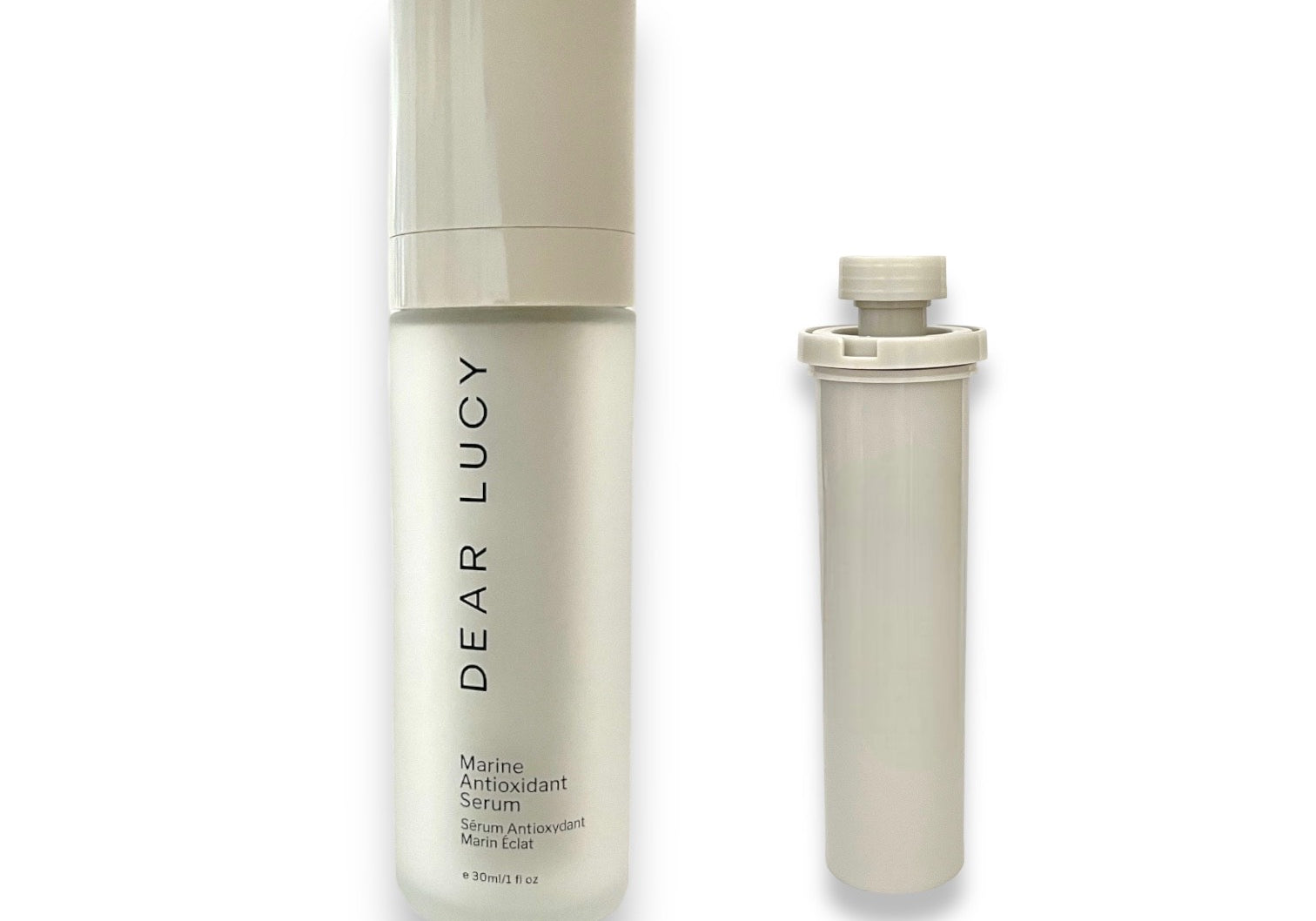 The 3 Rs of Recycling
Reduce – Gone are the days of the 7-step morning skincare routine. Our multi-tasking formula takes the place of all your morning toners and serums – it does more so you can buy less.

 Reuse – Packaged in a "forever bottle," our post-consumer recycled glass bottle, metal-free pump and cap can all be reused indefinitely.*

 Recycle – When you've finished your serum, simply remove the inner bottle, rinse, and place it in your curbside bin (where #5 is accepted). Replace with a new inner bottle refill. Our boxes were made locally in Vancouver, BC using FSC (Forest Stewardship Council) certified mix recycled paper and are fully recyclable.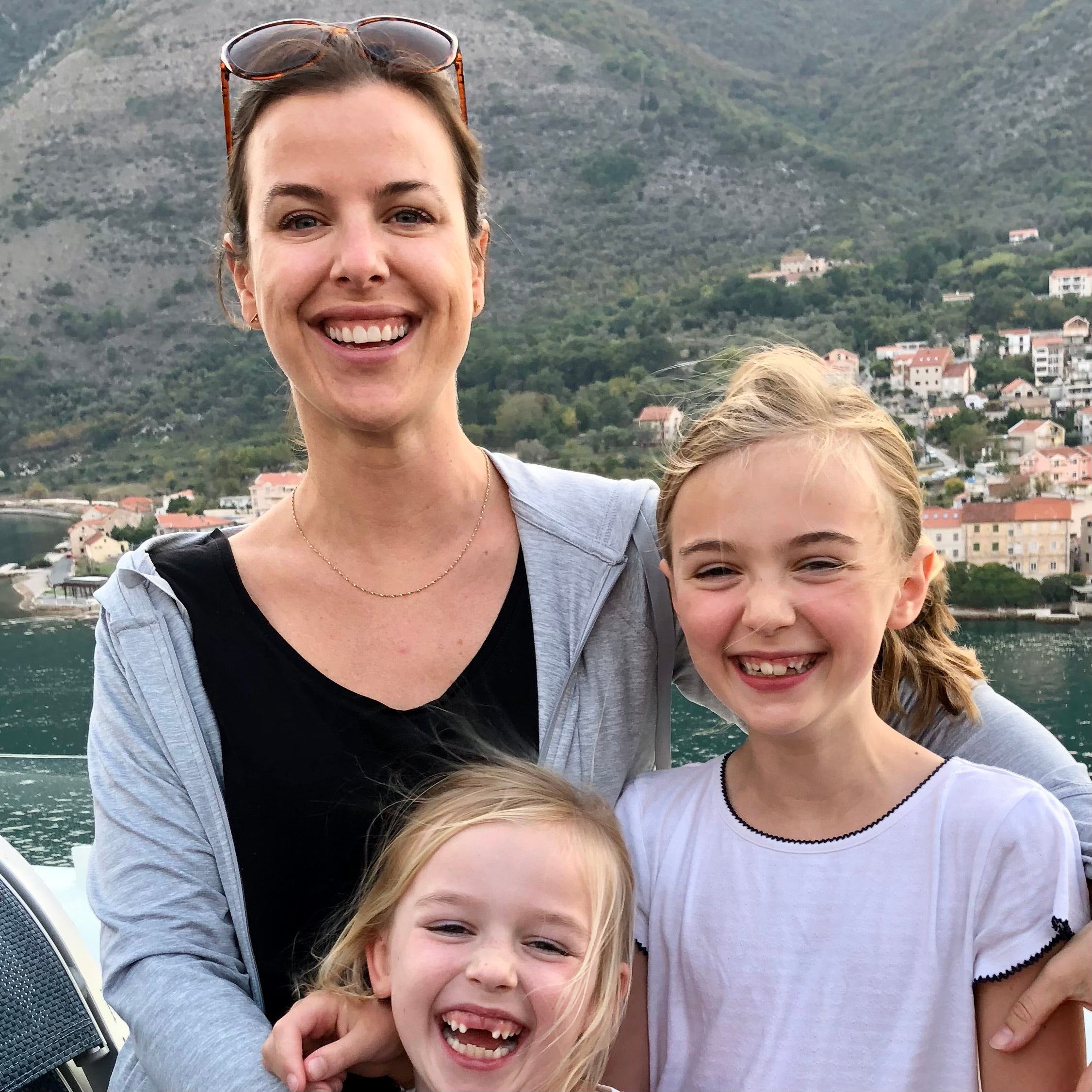 about the founder
Hi!  I'm Caity, a mom of two daughters in Victoria, BC, Canada. And until two years ago when I started developing Dear Lucy, I had no professional experience in the cosmetics industry. I'm a skincare lover, but an industry outsider.

I have stubborn hyperpigmentation and sensitive skin, and have always had a hard time balancing the two. After years of trial and error, I built a multiple-product routine that worked well for my skin.  However, I was unhappy with the cost and environmental impact of such a complex routine. So, I set out to create a solution that would target all my skin concerns, but in a single step. I hired leading experts to help with formulation, testing, regulatory compliance, and manufacturing – and I made the safest, most effective, and sustainable product I could.

I don't have outside investors or a board to answer to. I am a consumer making products for consumers. I have the freedom to say no when something doesn't feel right and the power to say yes even when something feels out of reach. And I'm doing everything I can to ensure Dear Lucy is a positive force in an industry that I love.
FAQ
WHERE ARE YOUR PRODUCTS MADE?

Proudly made in Vancouver, BC at a Health Canada certified facility following GMP (Good Manufacturing Processes).
ARE YOUR PRODUCTS VEGAN?
ARE YOUR PRODUCTS CRUELTY-FREE?

Yes. We do not test our ingredients or formulas on animals or contract any independent party to do so on our behalf. 
ARE YOUR PRODUCTS FRAGRANCE-FREE?
ARE YOUR PRODUCTS MEDICAL-GRADE?

Our formula has been tested far beyond what is legally required and was proven effective in an independent 8-week in-vivo (human) clinical trial using both visual grading and instrumentation. We use the highest quality ingredients with significant efficacy substantiation, at concentrations that are clinically proven.

 "Clinical grade," "medical grade," and "professional grade" are unregulated marketing terms and we will not be using them.
ARE YOUR PRODUCTS CLEAN?

Safety is our priority, as is substantiation of our safety claims. Our ingredients are responsibly sourced by reputable manufacturers, and each batch is safety tested before distribution. Our formula itself has undergone an extensive independent toxicological screening and safety assessment and it is approved to be sold in the EU, known to be the most strictly regulated cosmetics market. Our formula was proven to be non-irritating by an independent dermatologist-led HRIPT (Human Repeat Insult Patch Test) on 50 subjects.

 "Clean" is an unregulated marketing term and we will not be using it.
WHAT IS YOUR SHIPPING POLICY?

Shipping is free on all orders within Canada and the US. We use standard tracked shipping with Canada Post. All orders will be shipped within 2 business days.

Free next-day delivery Monday-Friday within Greater Victoria, BC.

International shipping – shipping costs will be displayed at checkout. Dear Lucy is not responsible for any duties or customs charges.  

Countries we currently ship to: Australia, Austria, Belgium, Canada, Denmark, Finland, France, Germany, Hong Kong SAR, Hungary, Iceland, Ireland, Italy, Japan, Jersey, Luxembourg, Netherlands, New Zealand, Norway, Sweden, Switzerland, United Kingdom, United States
If your country isn't listed and you want to purchase, please email us: info@dearlucyskincare.com
WHAT IS YOUR RETURN POLICY?

Changed your mind? No problem. We accept returns of unused items in their original packaging within 30 days of the purchase date.

To initiate a return, please email info@dearlucyskincare.com and provide your order number. A return number will be provided by email, along with a return shipping address. Please carefully package all items in their original packaging and clearly display your return number within. Customers are responsible for return shipping charges and must use a tracked shipping service. Once your return is received and inspected, please allow 3-5 business days to process your refund.

Our independent allergy testing (HRIPT) resulted in zero adverse reactions, but we understand that all skin is different. In the rare event of an adverse reaction, please email us at info@dearlucyskincare.com within the first 48 hours of use, and within 30 days of purchase. We may request photos and more information to confirm your reaction was caused by our product. If approved, a full refund will be issued.